We are delighted to be hosting (at short notice) the second Q&A of this season at the Liberty Stadium.
This is your chance to ask all your burning questions to those at the helm! For those unable to attend, please email sarah@ospreyssupportersclub.com with your questions. Priority will be given to those in attendance but we will make every effort to ask questions send in as time allows.
There is free parking at the stadium and the bar will be open. There is a nominal cost of £1 and all proceeds will go to Alun Wyn Jones' Testimonial Charities fund (OSC/AWJ badges will be on sale at the event if you haven't alreasdy got one.
Tickets will be on sale this Sunday pre & post match in the Riverside Bar and also pre match in the 2003 Lounge.
Where:
Penderyn Suite (3rd floor)
Liberty Stadium
When:
19:00, Wednesday 29th November 2017
Who:
ROGER BLYTH (Charman)
Roger Blyth took on the role of Chairman of Ospreys Rugby in 2013.
Roger has had a distinguished career in both business and Sport representing Swansea RFC and Wales on no less than 393 and 6 appearances respectively.
Andrew Millward (Managing Director)
Andrew Millward was appointed Managing Director in 2016.
Andrew represented Neath RFC more than 100 times before the formation of the Ospreys, going on to play 94 times for the region before hanging up his boots in 2009 and moving into the management team.
Steve Tandy (Head Coach)
Steve Tandy made his Neath debut in 1998 and went on to play 102 times for the Ospreys.
Steve took over as head coach at the Ospreys in 2012 after spending the previous 2 seasons as head coach of Bridgend RFC.
Huw Warren (Head of Commercial)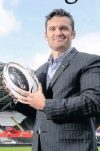 Huw Warren joined Ospreys Rugby from Bath RFC in 2016 as Head of Commercial.
Huw drives commercial strategy and is responsible for all commercial activities at Ospreys Rugby.